Welcome to Pinedale Properties

With more than 50years of successful operations in real estate development and property management, Pinedale Properties has established itself as a leader in the Toronto business community. With a successful history of real estate finance, development, investment, construction, and management, Pinedale continues to operate and grow on strong foundations.

The evolution of Apartment living

Pinedale's extensive portfolio of apartments across the Greater Toronto Area offers the ultimate in upscale rental living, with spacious room layouts, bright and airy interiors, quality appliance packages and more. Pinedale's rental properties are located in highly desirable neighbourhoods that offer a high quality of living.

Part of our city foundation

As owners and managers of residential and commercial properties from office to retail and industrial, we focus on prime locations in amenity-rich neighbourhood served by efficient transit, retail and public services.

Turning Concern to Care

Pinedale continues to embrace a variety of green-minded measures and activities to minimize our environmental impact through the Going Green initiative. Here are some of the ways we're doing it:

- LED lightening
- Programmable thermostats
- High performance windows
- Individual hydro meters
- Water efficient toilets & showerheads
- Energy efficient appliances
- Thoughtful use of land and sustainable site design

We Mean Business

Our commercial portfolio offers a world of choice, quality and value to a broad range of long-term tenants, including banks, small business and large multi-national companies. Customer satisfaction is a cornerstone of our corporate philosophy, and we are continually raising the bar in proving the highest standards of service.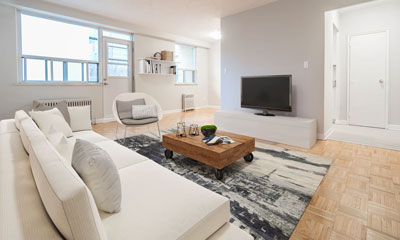 Find your perfect apartment in one of our premiere GTA rental communities today.
View Pinedale's diverse portfolio of commercial properties and find space to lease for your business.
Learn more about our active partnerships and development ventures of some of the city's most successful projects.